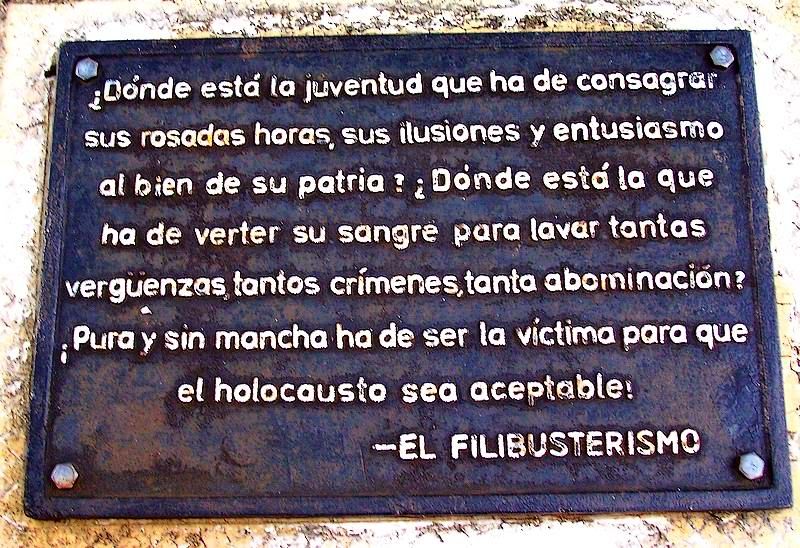 Kodak CX7430 Zoom

,

aperture at f3.40

,

shutter speed at 1/8 sec.

,

focal length of 53mm

,

no-flash

,

ISO 100
On the occasion of
Dr Jose Rizal
's 145th birthday anniversary, I am featuring his piercing words from
El Filibusterismo
:
In homegrown
Tagalog
:
Nasaan ang kabataang mag-aalay ng kanilang kasibulang buhay,
ng kanilang adhikain at sigasig sa kabutihan ng bansa?
Nasaan ang siyang puspusang magbubuhos ng dugo upang
mahugasang lahat ang ating kahihiyan,
ang ating mga kalapastanganan,
ang ating kabalintuan?
Tanging yaong dalisay at walang bahid ang karapatdapat maging alay
upang matanggap ang kasalantaang ito
!
....in
French
,
une langue que j'ai appris à aimer
:
Là où sont la jeunesse qui consacrera leurs heures d'or,
leurs illusions, leurs enthusiasms, pour le bien de la terre de mère?
Là où sont la jeunesse qui versera généreusement dehors leur sang pour enlever
tellement honte, tellement crime, tellement abomination?
La nécessité pure et immaculée la victime soit, de sorte que le sacrifice puisse être acceptable!
....and finally, in
English
:
Where are the youth who will consecrate their golden hours,
their illusions, their enthusiasms, for the good of the mother land?
Where are the youth who will generously pour out their blood to wash away
so much shame, so much crime, so much abomination?
Pure and spotless must the victim be, so that the sacrifice may be acceptable!