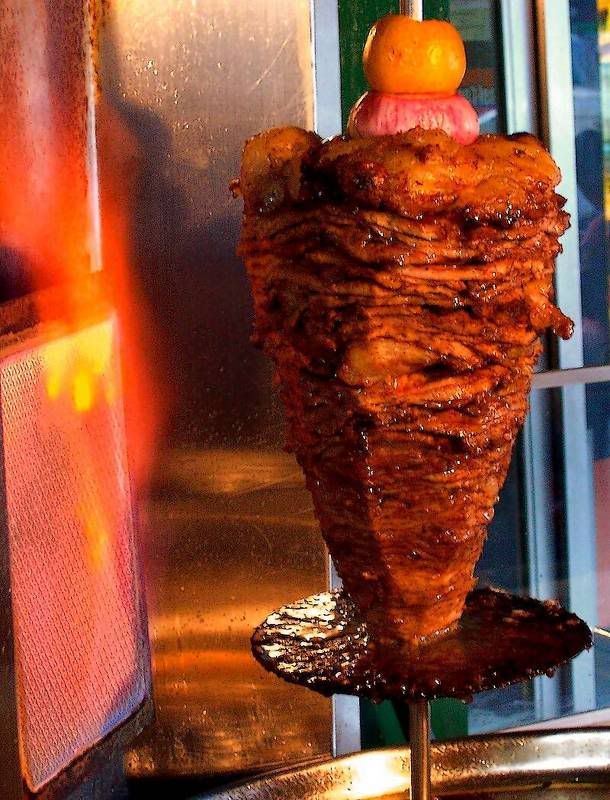 Kodak CX7430, aperture at f4.00, shutter speed at 1/8 sec., focal length of 66mm, KW-80A LFS, no-flash, ISO 140
All love affairs begin with a temptation. The hot gas flame. The tomato and onion on top. Layers and layers of thin beef slices. The slow rotation of the metal skewer. The delicious smell which tells you that sinful fat is about to ruin your weakening resolve. This is how the courtship begins. If you are hungry, you are most vulnerable to be tempted. The herd mentality and the peer pressure further lead you to surrender to the love affair as you see the long lines of people waiting for their turn to be served. Eat while hot, and do not forget to add the equally sinful doses of white sauce and chili sauce.
Toutes les liaisons amoureuses commencent par une tentation. La flamme chaude de gaz. La tomate et l'oignon sur le dessus. Couches et couches de tranches minces de boeuf. La rotation lente de la brochette en métal. L'odeur délicieuse qui t'indique que la graisse pécheuse est sur le point de ruiner votre régime. C'est comment la cour commence. Si vous avez faim, vous êtes le plus vulnérable pour être tenté. Mangez tandis que chaud, et n'oubliez pas d'ajouter les doses également pécheuses de sauce blanche et de sauce à piment
.