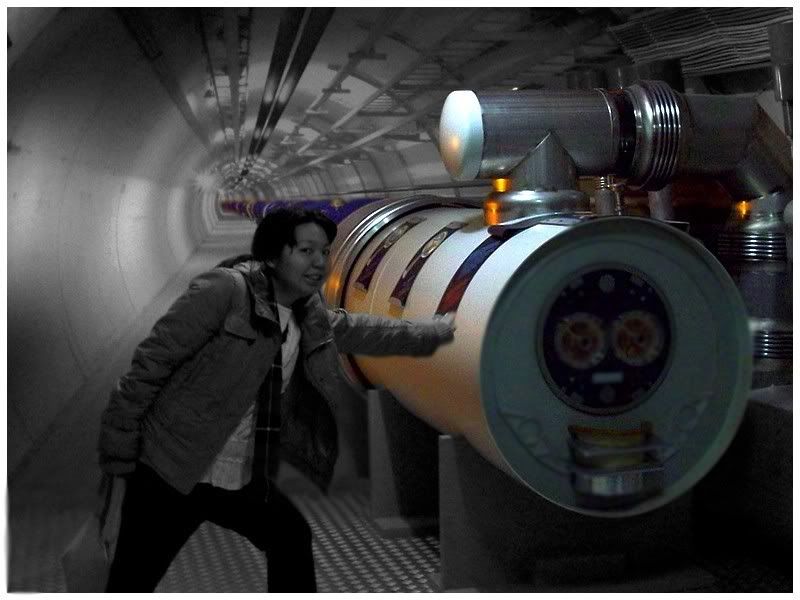 Kodak M853, 1/8, f2.8, 0.0ev, no-flash, 6.20mm, ISO 200
Sabi ng mga paham nagsimula daw ang lahat sa isang
malaking pagsabog
. Subalit iyon ay haka-haka lamang. Nais nilang malaman kung ito nga ay totoo kaya ginawa nila ang malaking makina na makakatuklas kung paano nga naganap ang simula ng lahat. Ito ay ang
LHC
, at ito ay ginawa sa
CERN
, sa pagitan ng Switzerland at France. May habang 27 kilometro at nakabaon nang mahigit na 150 metro sa ilalim ng lupa, ito ay konkretong tubo na may halong pilak at asul ang kulay. Mapalad na nadalaw ko ito noong isang taon.
Scientists say everything began with a
big bang
. But that is only their theory. They want to test their hypothesis and they built a colossal machine to discover how it all started. The machine is the
LHC
, and it is located near the border of Switzerland and France. It was built by
CERN
, and is 27 kilometers in length and buried more than 150 meters below the surface. It is enclosed in a circular tunnel and easily recognized by its mixed silver and blue colors. I was fortunate to visit it last year while it was being built.
Les scientifiques disent que tout a commencé par un
grand coup
. Mais c'est seulement leur théorie. Ils veulent évaluer leur hypothèse et ils ont construit une machine colossale pour découvrir comment elle a tout commencé. La machine est le
LHC
, et elle est située près de la frontière de la Suisse et de la France. Il a été construit par le
CERN
, et est de 27 kilomètres de longueur et a enterré plus de 150 mètres au-dessous de la surface. Il est enfermé dans un tunnel circulaire et facilement identifié par son argent mélangé et couleurs bleues. J'étais chanceux pour le visiter l'année dernière tandis qu'il était construit.