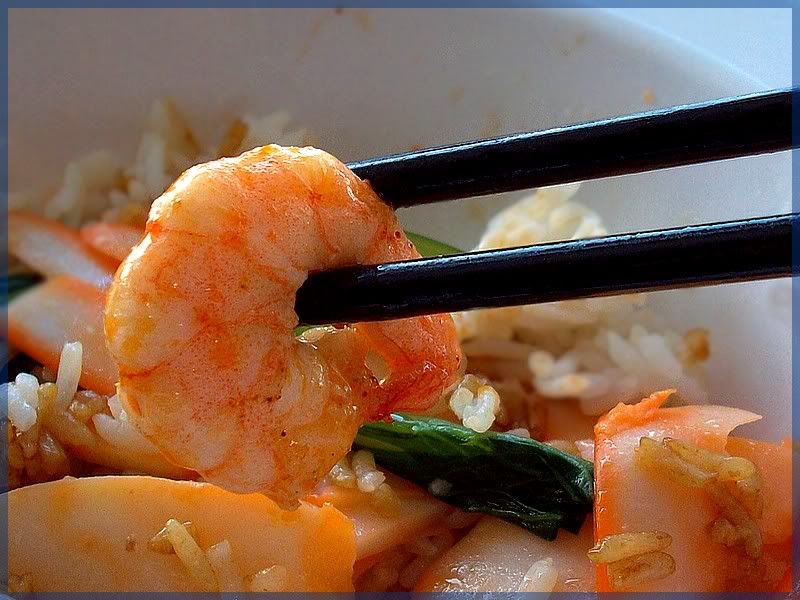 Kodak M853, 1/123, f2.8, fill-flash, 37mm, ISO 80

Ang paborito kong plastik ay tinutulungan akong kumain paminsan-minsan. Mahaba. Kulay itim. Madaling linisin. Magaan. Kayang bitbitin kahit saan. Siguro naman, alam mo na kung ano ito, di ba?
The theme this week is plastic. I thought of its environmental bad publicity, and I know many people already condemn it these days. I decided to focus instead on some of its positive aspects. I chose this pair of black chopsticks. The better ones are made either of metal or ivory, but the plastic variety is more useful. Long, black in color, very portable, and helps me eat my favorite shrimps.
Le thème cette semaine est en plastique. J'ai pensé à sa mauvaise publicité environnementale, et à moi sais que beaucoup de personnes la condamnent déjà de nos jours. J'ai décidé de me concentrer à la place sur certains de ses aspects positifs. J'ai choisi cette paire de baguettes noires. Les meilleurs sont faits de métal ou ivoire, mais la variété en plastique est plus utile. Longtemps, noir en couleurs, très le portable, et m'aide à manger de mes crevettes préférées.