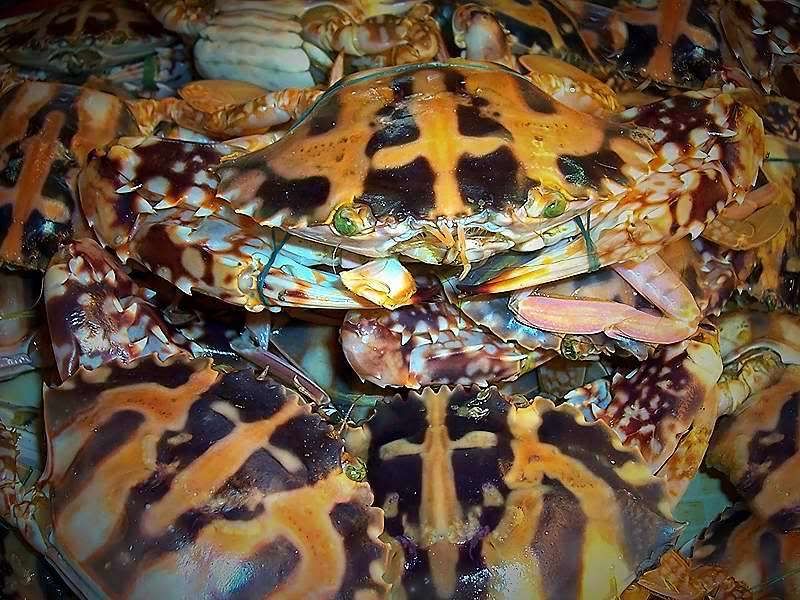 Kodax CX7430

,

aperture at f2.73

,

shutter speed at 1/60 sec.

,

focal length of 34mm

,

fill-flash

,

ISO 100
In a wet market near my home, a persistent crab vendor insists that the crabs above are authentic
Dungeness crabs
from San Franscisco Bay in the US. But since I know crab species, I just smiled knowing how false his insistent argument was. I snapped a picture, and decided to buy fish instead. The crabs above are called "
Sea Crabs
," scientific name -
Charybdis cruciata
- and certainly are not known to frequent US shores. They are usually found in abundance in Thailand, India, and sometimes, southern Philippines.
Sur un marché près de ma maison, un fournisseur persistant de crabe insiste sur le fait que les crabes ci-dessus sont les crabes de Dungeness authentiques du compartiment de San Franscisco aux Etats-Unis. Mais puisque je sais des espèces de crabe, j'ai juste souri sachant faux son argument insistant était. J'ai cassé une photo, et décidé d'acheter des poissons à la place. Les crabes ci-dessus sont simplement connus et appelés des "Crabes de Mer," nom scientifique --- Charybdis cruciata --- et certainement ne sont pas connus pour fréquenter des rivages des Etats-Unis. Ils sont habituellement trouvés dans l'abondance en Thaïlande, Inde, et parfois, Philippines méridionales.