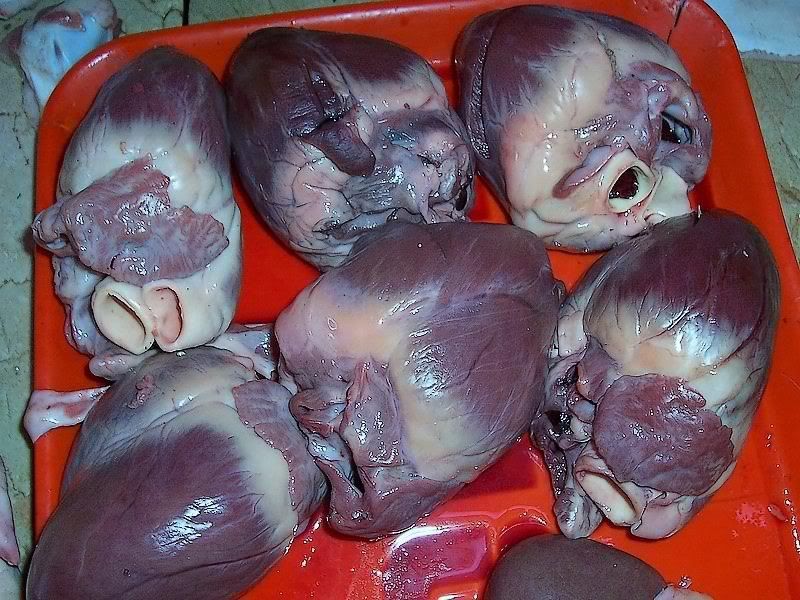 Kodak CX7430, aperture at f2.70, shutter speed at 1/60 sec., exposure bias at 0.0, focal length of 34mm, fill-flash, ISO 80
"This Valentines Day, I won't just give you my heart. I will give you five more." That's the amusing offer of my friendly market meat vendor as she promised to give me discounts if I buy these hearts. But I do not eat hearts. These are hearts of poor pigs slaughtered and openly sold to anyone who will take them. As aphrodisiacs, perhaps? Argh! Perish the thought.
"Ce jour de Valentines, je ne te donnerai pas simplement mon coeur. Je te donnerai cinq davantage." C'est l'offre amusante de mon fournisseur amical de viande de marché comme elle a promis de me donner des escomptes si j'achète ces coeurs. Mais je ne mange pas des coeurs. Ce sont des coeurs de pauvres porcs abattus et ouvrir vendus de n'importe qui qui les prendra. Comme aphrodisiaques, peut-être? Oolala! Périssez la pensée.