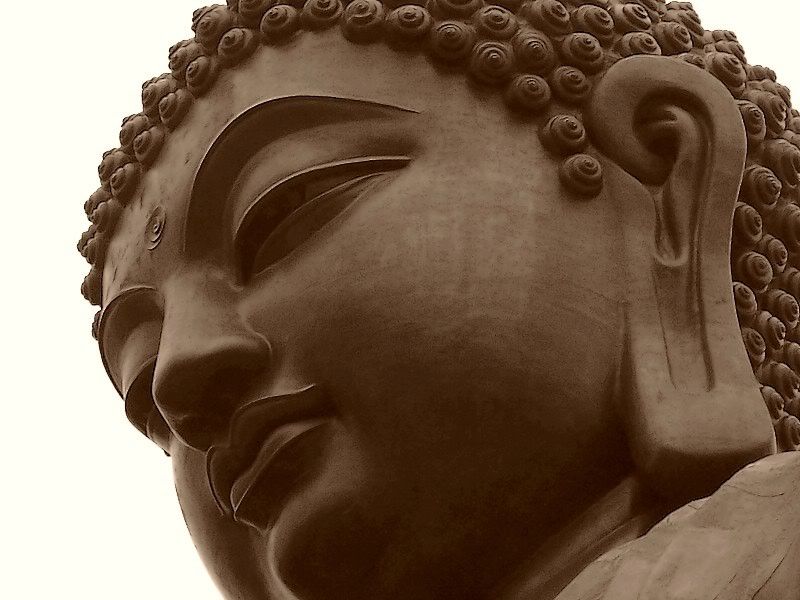 Kodak CX7430, aperture at f4.59, shutter speed at 1/125 sec., exposure bias at +1.0, focal length of 102mm, no-flash, ISO 100
Almost all Buddha statues I see are ideal examples of what true peace is all about. The eyes show a glint of deep happiness but the face hides any hint of the usual wrinkles associated with a smile. The face is perfect. The nose and the mouth are carefully proportioned to express both feeling and isolation. The ears are unusually large, perhaps because it is the only sensation that attempts to connect to the real world. The hair is a collection of small whorls, probably symbolizing the years and years it took to attain this perfect state of harmony.
Presque toutes les statues de Bouddha que je vois sont des exemples idéaux de quelle paix vraie est tout environ. L'exposition de yeux un reflet de bonheur profond mais du visage cache n'importe quel conseil des rides habituelles s'est associée à un sourire. Le visage est parfait. Le nez et la bouche sont soigneusement proportionnés pour exprimer le sentiment et l'isolement. Les oreilles sont exceptionnellement grandes, peut-être parce que c'est la seule sensation qui essaye de se relier au réel. Les cheveux sont une collection de petites spirales, symbolisant probablement les années et des années où elle a pris pour atteindre cet état parfait d'harmonie.