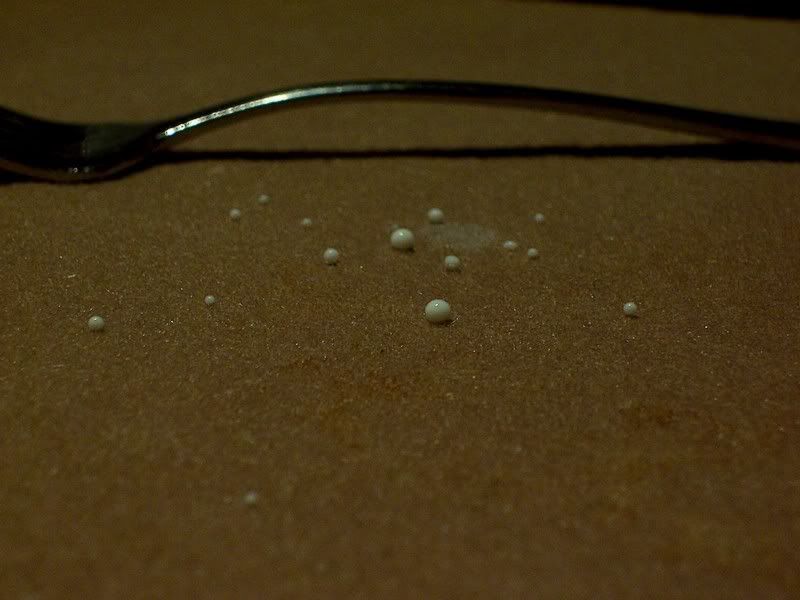 Kodak CX7430, aperture at f4.60, shutter speed at 1/8 sec., focal length of 102mm, no-flash, ISO 100
Some of my lectures begin really early. As early as six o'clock in the morning. When the lights are dim and the air very cool because the aircon temperature has been set very low, it is very difficult to keep yourself awake. So, what does a sleepy person do? Fix himself a strong cup of coffee. I prefer mine black with no sugar. But because I was still sleepy, I was clumsy enough to knock down the milk pot and spill some milk drops on my table.

Certaines de mes conférences commencent vraiment tôt. Dès six heures le matin. Quand les lumières sont faibles et l'air très frais parce que la température d'aircon a été placée très basse, il est très difficile de se maintenir éveillé. Est-ce qu'ainsi, qu'une personne somnolente fait ? Difficulté lui-même une tasse forte de café. Je préfère les miens noirs sans le sucre. Mais parce que j'étais encore somnolent, j'étais assez maladroit pour frapper en bas du pot de lait et pour renverser quelques baisses de lait sur ma table.