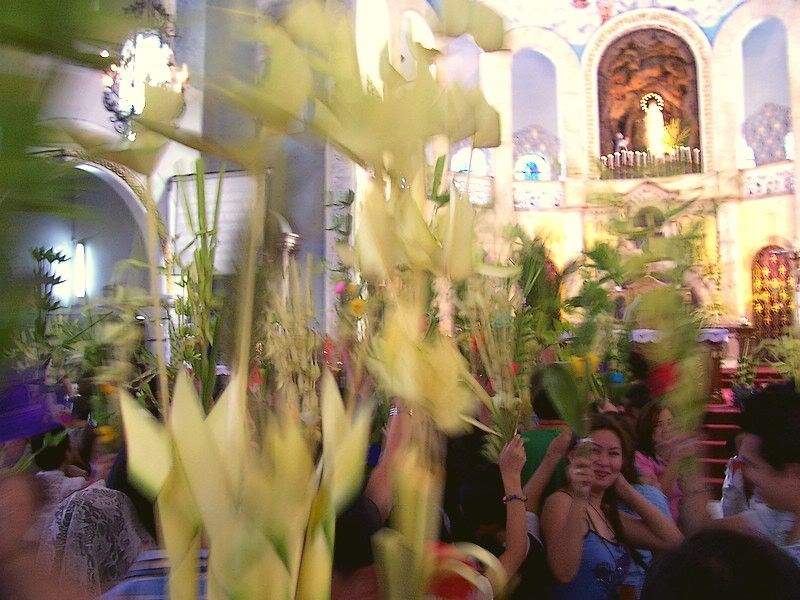 Kodak CX7430, aperture at f2.70, shutter speed at 1/10 sec., focal length of 53mm, no-flash, ISO 100
People in the Philippines celebrate the entrance of Jesus into Jerusalem by waving braided coconut leaves in churches everywhere during the celebration of Sunday mass. It is a joyous occasion. The priest blesses the leaves by sprinkling holy water on them. People will usually keep these blessed leaves inside their houses and give them back next year to their churches to be burned so that the ashes can be used for Ash Wednesday.

Les gens aux Philippines célèbrent l'entrée de Jésus dans Jérusalem en ondulant les feuilles tressées de noix de coco dans les églises partout pendant la célébration de la masse de dimanche. C'est une occasion joyeuse. Le prêtre bénit les feuilles en arrosant l'eau sainte sur elles. Les gens habituellement garderont ces feuilles bénies à l'intérieur de leurs maisons et leur donneront en arrière l'année prochaine à leurs églises à brûler de sorte que les cendres puissent être employées pour la Cendre Mercredi.